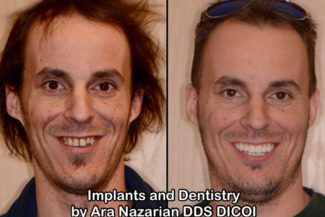 If your teeth have become damaged beyond repair, whether due to wear, decay, or infection, same-day implants can help. A dental implant is a type of dental restoration that's embedded into your jawbone, simulating the root of a natural tooth. Our dental implant dentist in Shelby Township, MI, uses CBCT technology in order to deliver long-lasting restorations in just one appointment.
Here's what you need to know about same-day dental implant surgery.
What Are Same-Day Implants?
As the name suggests, same-day implants are dental implants that are able to be capped with a replacement tooth or row of teeth the same day they are embedded into your jawbone. Our Shelby Township dental implant dentist uses CBCT, which stands for "cone-beam computed tomography," in order to accurately place your same-day dental implants.
CBCT scans allow Dr. Nazarian to see a full view of your mouth before we begin dental implant treatment. This helps us place your implants more effectively and allows us to avoid unforeseen complications. We'll use this tool to create a 3D image of your mouth, which lets us see what the dental implant procedure will look like before we begin.
At most dental offices, you'll need to wait months after your dental implant placement before you can have your crown, bridge, or dentures attached. Dr. Nazarian uses advanced dental technology to make sure you leave our office with your dental restoration in just one appointment.
Benefits of CBCT Same-Day Implants
If you're a candidate for same-day dental implants, you're in luck! There are many benefits to having your dental restoration completed in just one appointment, including:
The procedure can be completed with IV sedation, which means you won't have to be awake for any part of the dental implant surgery. When you wake up, you'll have a whole new smile.
Same-day dental implants mean that you won't have to leave our office with a tooth gap. Once the implant has been placed, we'll top it with a same-day crown, bridge, or dentures to complete your smile.
Typical dental implants require several follow-up appointments before you can be fitted with your permanent restoration. With same-day dental implants, you'll cut down on the total amount of dental visits you'll need.
Same-day dental implants look and feel natural. After your mouth heals from the procedure, you'll be able to eat and speak normally.
Dental implants mimic the effect of a tooth's root, preventing your jawbone from deteriorating over time and preserving the shape of your face.
Not every patient is a candidate for same-day implants. A few of the determining factors include your bone structure, your oral health, and your medical history. Our team will talk you through your tooth replacement options at the time of your consultation. If same-day implants aren't right for you, we offer a variety of other restorative dental procedures that can help.
Schedule an Appointment with Dr. Nazarian
Dr. Ara Nazarian is a renowned dental implant dentist in Shelby Township, MI. He's also accepting new patients and would be more than happy to help you explore your tooth replacement options. To schedule an appointment, please call the Premier Dental Center at (248) 457-0500. You may also fill out our online contact form and someone from our team will reach out to you soon.
This blog post has been updated.