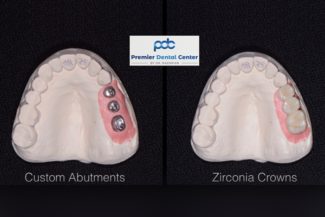 At the Premier Dental Center, we don't just use CBCT scans to make our dental implant procedures go smoothly. Our dentist in Shelby Township, MI, also uses CAD/CAM technology to custom-make your new restorations right here in our office.
Here's what you need to know about our CAD/CAM technology.
What is CAD/CAM Technology?
CAD stands for computer-assisted design and CAM stands for computer-aided manufacturing. With this technology, our Shelby Township dentist can place dental implants, crowns, and bridges in one visit.
Step 1: Tooth Preparation
First, we'll prepare your mouth for the upcoming procedure. This may include filing down the adjacent teeth to make room for a dental bridge. Likewise, we'd have to file down and shape a tooth in preparation for a crown.
Step 2: Digital Dental Impressions
Next, we'll use an intraoral scanner to create 3D models of your teeth and gums. These digital dental impressions are highly accurate and let us see more details in less time. This allows Dr. Nazarian the opportunity to detect any possible difficulties or complications so your procedure will go smoothly.
In the past, other dentists may have had you bite down on a tray of messy impression putty. Not only was this uncomfortable but it often triggered the gag reflex.
In contrast, our intraoral scanner is a slim device that doesn't cause patient unease or discomfort. It's fast, accurate, and non-invasive.
Step 3: Design
The digital dental impressions we take will transfer to our computer. From there, Dr. Nazarian will design your restoration right in front of your eyes. Next, he'll send it to the milling machine in our office.
Step 4: Milling
In the past, patients may have had to wait weeks for a lab to make their dental restoration. Today, we're able to create your crown or bridge in one appointment.
We can also custom-mill any posts and abutments you need for your dental implants. That way, you're able to leave our office with your brand-new smile.
Step 5: Restoration Placement
For one of the final steps, Dr. Nazarian will secure the restoration in your mouth. This process will look different depending on what procedure you get.
For example, Dr. Nazarian may recommend IV sedation when getting same-day dental implants. With the help of sedation, your appointment will only seem to last about 15 or 20 minutes.
Sedation will also help relieve anxiety and ease any discomfort from holding your mouth open for an extended period of time.
Each patient is different. That's why Dr. Nazarian will take the time to explain your treatment options so you can make an informed decision about your oral health.
Related: Taking the Guesswork Out of Dental Implant Treatment →
Request an Appointment With Dr. Nazarian
Dr. Ara Nazarian is an experienced dental implant dentist in Shelby Township, MI. As such, he'd be more than happy to help you explore your tooth replacement options and better understand our CAD/CAM technology. To request an appointment, please call the Premier Dental Center at (248) 457-0500. You may also fill out our online contact form and someone from our office will reach out to you soon.
This blog post has been updated.