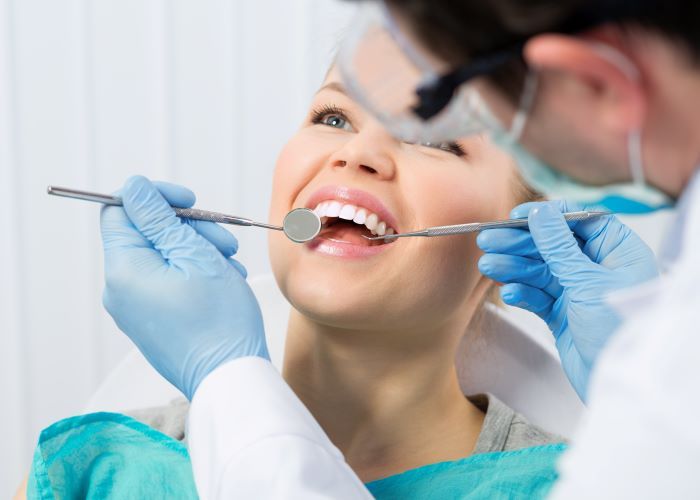 We get it. Probably the last thing you want to do is schedule an appointment to get your teeth cleaned. But do your future self a favor and schedule an appointment with our dentist in Shelby Township, MI. While it may seem inconvenient, a dental cleaning is one of your best defenses against tooth decay, gum disease, and other oral health issues.
Here's why you really need to schedule a teeth cleaning at least every 6 months.
Fight Dental Plaque and Tartar
Inside your mouth is an invisible film of bacteria called dental plaque. These bacteria eat any sugar that's left behind on your teeth and gums. In return, they produce an acid that erodes your enamel and attacks your gums.
Once dental plaque hardens into tartar, you won't be able to remove it at home by brushing or flossing. Instead, you'll need to schedule a teeth cleaning appointment with our office. During your appointment, we'll use a dental tool called a scaler to gently scrape away plaque and tartar.
Related: What to Expect During a Teeth Cleaning
Screen for Oral Cancer
The American Cancer Society estimates that over 53,000 Americans will get oral and throat cancer this year. This is why we always screen our patients for oral cancer during their teeth cleaning appointment.
During an oral cancer screening, Dr. Nazarian will examine the inside of your mouth for red and white patches. He'll also feel inside your mouth for any lumps or other abnormalities. If Dr. Nazarian spots anything suspicious, he'll refer you to the appropriate specialist to get a biopsy done.
An oral cancer screening is a simple procedure that could save your life!
Get X-Rays Taken
Dental X-rays allow us to see any issues that may be lurking beneath the surface. For example, we may be able to detect a small cavity hiding between your back teeth. X-rays also allow us to view your jawbone and other underlying oral structures.
Diagnose Oral Health Issues Early
Don't wait until you're in unbearable pain to schedule an appointment with our office. The sooner we're able to detect a problem with your oral health, the sooner we'll be able to provide treatment. One of the goals of preventive dentistry is to catch oral health problems early. That way, we're able to treat minor problems before they have a chance to grow.
Preventive dentistry also helps you save as much tooth enamel as possible. For example, it's much less invasive to treat a small cavity with a filling than to wait until you need an emergency root canal. If you wait too long, we may have no choice but to extract the tooth.
During an appointment for preventive care, we'll examine the inside of your mouth and possibly take X-rays. All of these measures help detect oral health issues early so you can maintain a healthy smile.
Save Money with Preventive Care
The sooner we can detect an issue with your oral health, the sooner you can get the care you need. From a financial perspective, it's much less expensive to get a filling than a root canal or dental implant. It's also worth noting that most dental insurance companies will cover the full cost of your dental cleanings and other preventive care.
If we discover an issue during your appointment, Dr. Nazarian will recommend a treatment plan to restore your oral health.
Schedule a Teeth Cleaning with Dr. Nazarian
Our dentist in Shelby Township, MI, provides the preventive dental services you need to maintain a healthy smile for life! To request an appointment with Dr. Ara Nazarian, call the Premier Dental Center at (248) 457-0500. You may also fill out our online contact form and someone from our team will reach out to you soon.
This blog post has been updated.