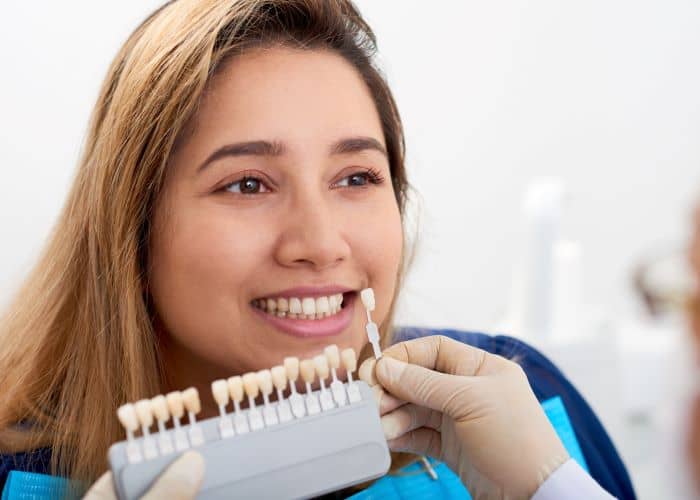 Our cosmetic dentist in Shelby Township, MI, may recommend dental bonding if you have front teeth with small chips, cracks, or stains. Dental bonding may also be used to close small gaps between teeth in the "smile zone."
Here's what else you need to know about the dental bonding procedure.
Pros and Cons of Dental Bonding
One of the main benefits of dental bonding is that it can be done in one appointment. This means that you'll be able to leave our office with your new smile.
| | |
| --- | --- |
| Pros | Cons |
| Done in one appointment | Doesn't last as long as veneers or crowns |
| No enamel removal necessary | More likely to stain if you smoke or drink a lot of staining beverages |
| Procedure is painless | Only repairs minor imperfections |
| No anesthesia required | |
Consultation
First, you'll need to schedule an appointment with our Shelby Township cosmetic dentist. Dr. Nazarian has been delivering cosmetic solutions to patients for over 28 years. Once you're in the dentist's chair, we'll take X-rays and Dr. Nazarian will conduct an oral examination.
If the damage to your front teeth is minor, he may recommend the dental bonding procedure. But it's important to remember that each patient is different. For example, he may recommend a dental crown if the tooth is structurally compromised by a large crack or cavity. Likewise, Dr. Nazarian may recommend professional teeth whitening if you have noticeable stains. It all depends on what he observes during your appointment.
Whatever the result, you can be sure that Dr. Nazarian will be able to create a beautiful healthy smile you'll be proud to show the world.
Related: What is Cosmetic Dentistry? →
Dental Bonding Procedure
If you're a candidate for cosmetic bonding, Dr. Nazarian will use a shade guide to match the exact color of your enamel. This ensures that the composite resin looks natural and matches the rest of your smile.
Next, Dr. Nazarian will roughen the surface of your tooth and apply a liquid. This will then allow the composite resin to make a strong bond with the tooth. Once the tooth has been prepped, Dr. Nazarian will start to mold the composite resin onto your tooth. The final step is to harden the resin in place with ultraviolet light.
Aftercare
Dental plaque is one of the main threats to your oral health. That's why it's vital that you continue practicing good oral hygiene at home. Our dentist recommends brushing your teeth twice a day for at least two minutes at a time. You should also floss once a day to remove any food particles that could be hiding between teeth.
In addition to good oral hygiene, continue scheduling appointments with our office for routine teeth cleanings and oral examinations. During these appointments, we not only remove plaque and tartar but we'll also monitor the condition of your bonded teeth.
In general, teeth bonding can last between three and 10 years. But it all depends on how well you take care of your smile and overall health. Dental bonding is more likely to last longer when you practice good oral hygiene, don't grind your teeth, and avoid smoking. You should also avoid drinking a lot of dark beverages (like coffee or red wine) that could stain the bonding material.
Request an Appointment With Dr. Nazarian
Dr. Ara Nazarian is an experienced cosmetic dentist in Shelby Township, MI. As such, he'd be more than happy to help you explore your smile makeover options. To request an appointment and learn if you're a candidate for dental bonding, call the Premier Dental Center at (248) 457-0500. You may also fill out our online contact form and someone from our team will reach out to you soon.
This blog post has been updated.